The picture below shows why a weld with a high depth to width ratio or concave throat MAY be more subject to cracking upon cooling. Joint restraint, heat input, root opening, and other factors may change the results. This is usually not a problem on thinner materials. Submerged arc welding can sometime have this problem more often than other processes.
The concave weld profile is not a problem and is often desirable on the root pass of GTAW welded joints provided the thickness of the weld is not too great. Flare bevel or flare groove welds can sometimes have problems associated with bead profile.
Sometimes a line or crease appearing in the face of a root is an indicator of complete fusion with the root. This would usually be a single vee or single bevel groove joint welded from one side only. In highly restrained joints, this crease or line becomes a crack.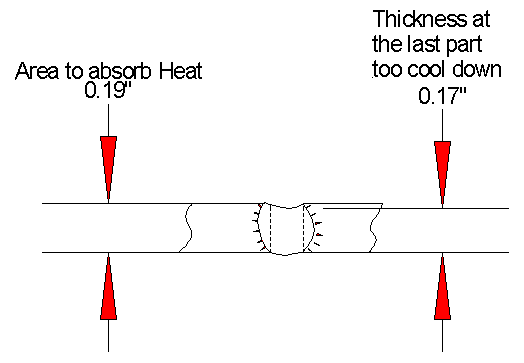 Since 23 Mar 04